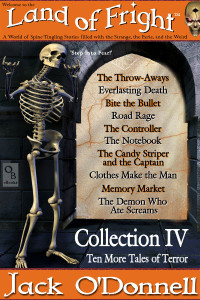 Land of Fright™ Collection IV is now available on Amazon.
Land of Fright™ Collection IV includes these ten horror stories:
#31 – The Throw-Aways: A washed-up writer of action-adventure thrillers is menaced by the ghosts of the characters he has created.
#32 – Everlasting Death: The souls of the newly deceased take on solid form and the Earth quickly begins to fill with immovable statues of death…
#33 – Bite the Bullet: In the Wild West, a desperate outlaw clings to a bullet cursed by a gypsy… because the bullet has his name on it.
#34 – Road Rage: A senseless accident on a rural highway sets off a frightening chain of events.
#35 – The Controller: A detective investigates a bank robbery that appears to have been carried out by a zombie.
#36 – The Notebook: An enchanted notebook helps a floundering author finish her story. But the unnatural fuel that stokes the power of the mysterious writing journal leads her down a dark and disturbing path…
#37 – The Candy Striper and the Captain: American WWII soldiers in the Philippines scare superstitious enemy soldiers with corpses they dress up to look like vampire victims. The vampire bites might be fake, but what comes out of the jungle is not…
#38 – Clothes Make the Man: A down-on-his-luck young man steals a magical suit off of a corpse, desperately hoping some of its power will rub off on him.
#39 – Memory Market: The cryptic process of memory storage in the human brain has been decoded and now memories are bought and sold in the memory market. But with every legitimate commercial endeavor there comes a black market, and the memory market is no exception…
#40- The Demon Who Ate Screams: A young martial artist battles a vicious demon who feeds on the tormented screams and dying whimpers of his victims.
Look for the other Land of Fright™ collections! Please note: Land of Fright™ is intended for mature audiences.