Land of Fright™ Collection I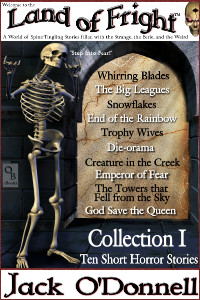 Buy Land of Fright™ Collection I on Amazon
Land of Fright™ Collection I contains Horror Short Stories #1 thru #10 from the Land of Fright™ series listed below:
#1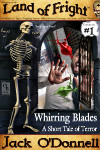 Whirring Blades – A simple late-night trip to the mall for a father and his son turns into a struggle for survival.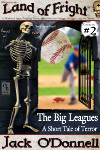 #2
The Big Leagues – A scorned young baseball player shows his teammates he really knows how to play ball with the best of them.
#3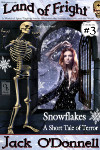 Snowflakes – In the land of Frawst, special snowflakes are a gift from the gods, capable of transferring the knowledge of the Ancients. A young woman searches the skies with breathless anticipation for her snowflake, but finds something far more dark and dangerous instead.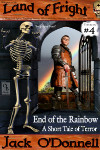 #4
End of the Rainbow – In Medieval England, a warrior and his woman find the end of a massive rainbow that has filled the sky.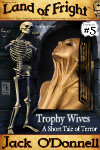 #5
Trophy Wives – An enigmatic sculptor meets a beautiful woman whom he vows will be his next subject.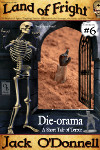 #6
Diorama – A petty thief finds out that a WWII model diorama in his local hobby shop holds much more than just plastic vehicles and plastic soldiers.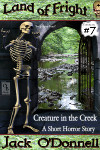 #7
Creature in the Creek – A lonely young woman finds her favorite secluded spot inhabited by a monster from her past.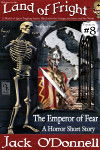 #8
The Emperor of Fear – In ancient Rome, two colosseum workers encounter a mysterious crate containing an unearthly creature. Just in time for the next gladiator games…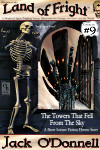 #9
The Towers That Fell From The Sky – Two analysts race to uncover the secret purpose of the giant alien towers that have thundered down out of the skies.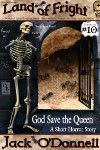 #10
God Save the Queen – An exterminator piloting an ant-sized robot comes face to face with the queen of a nest he has been assigned to destroy.