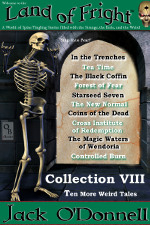 Land of Fright – Collection VIII includes these ten strange tales:
#71 – In the Trenches
Soldiers trapped in the trenches of World War 1 must battle a new demonic enemy that attacks them from the skies.
#72- Tea Time
A mysterious tea tantalizes a man with its enigmatic ingredients. Will it truly reveal the secret truth he so desperately longs for?
#73 – The Black Coffin
A strange and ominous black coffin bewitches the residents of a small Kansas town in the 1880's.
#74 – Forest of Fear
A forest favored by those with suicidal tendencies gives life to a strange creature that unites a despondent young woman with the stalker she had filed a restraining order against.
#75 – Starseed Seven
A team of exoplanet explorers encounter the wreckage of an ancient planet-seeding vessel that had disappeared centuries earlier. They soon discover the results of illegally modified seed pods being unleashed on an unsanctioned world…
#76 – The New Normal
Small town America fights back against the deadly spread of the coronavirus.
#77 – Coins of the Dead
A hungry and destitute beggar steals gold coins placed on the eyes of the dead, but this little bit of thievery has unintended consequences that go far beyond denying the deceased passage into the afterlife.
#78 – Cross Institute of Redemption
Just what is the Cross Institute of Redemption? The writer/publisher of Supernatural Scoops digs deeper into a mysterious story that may save his livelihood and prevent his webzine from going out of business.
#79 – The Magic Waters of Wendoria
A young couple names their newborn daughter after a character in a popular TV show, but they soon question the judgment of that decision when their daughter begins to act strangely.
#80 – Controlled Burn
A rookie firefighter believes he sees a demonic entity stalking him in the flames.
Land of Fright – Collection VIII is now available now on Amazon.