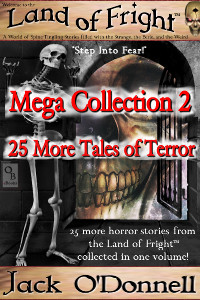 Land of Fright™ Mega Collection 2 is now available on Amazon.
Land of Fright™ Mega Collection 2 contains 25 more stories in the Land of Fright™ series of horror short stories all in one convenient volume!
Please note Land of Fright™ is intended for mature audiences.
The Land of Fright™ stories contained in Mega Collection 2:
#26 – Out of Ink: Colonists on a remote planet resort to desperate measures to ward off an attack from alien animals.
#27 – Dung Beetles: Mutant dung beetles attack a family on a remote Pennsylvania highway.
#28 – The Tinies: A beleaguered office worker encounters a strange alien armada in the sub-basement of his office building.
#29 – Hammer of Charon: In ancient Rome, it is the duty of a special man to make sure gravely wounded gladiators are given a quick death. He serves with honor. Until they try to take his hammer away from him…
#30 – Pharaoh's Cat: In ancient Egypt, the pharaoh is dying. His advisors want his favorite cat to be buried with him. The cat has other plans…
#31 – The Throw-Aways: A washed-up writer of action-adventure thrillers is menaced by the ghosts of the characters he has created.
#32 – Everlasting Death: The souls of the newly deceased take on solid form and the Earth quickly begins to fill with immovable statues of death…
#33 – Bite the Bullet: In the Wild West, a desperate outlaw clings to a bullet cursed by a Gypsy… because the bullet has his name on it.
#34 – Road Rage: A senseless accident on a rural highway sets off a frightening chain of events.
#35 – The Controller: A detective investigates a bank robbery that appears to have been carried out by a zombie.
#36 – The Notebook: An enchanted notebook helps a floundering author finish her story.
#37 – The Candy Striper and the Captain: American WWII soldiers in the Philippines scare superstitious enemy soldiers with corpses they dress up to look like vampire victims.
#38 – Clothes Make the Man: A down-on-his-luck young man steals a magical suit off of a corpse, desperately hoping some of its power will rub off on him.
#39 – Memory Market: The cryptic process of memory storage in the human brain has been decoded and now memories are bought and sold in the memory market.
#40 – The Demon Who Ate Screams: A martial artist battles a vicious demon who feeds on the tormented screams of his victims.
#41 – The Hatchlings: An afternoon barbecue turns into an afternoon of terror for a suburban man when the charcoal briquets he is using in his grill start to hatch!
#42 – Virgin Sacrifice: A professor of archaeology is determined to set the world right again using the ancient power of the Aztec sacrifice rituals.
#43 – Smog Monsters: The heavily contaminated air in Beijing turns even deadlier when unearthly creatures form within the dense poison of its thick pollution.
#44 – Benders of Space-Time: A young interstellar traveler discovers the uncomfortable truth about the Benders, the creatures who power starships with their ability to fold space-time.
#45 – The Picture: A soldier in WWII shows fellow soldiers a picture of his fiancé, but this seemingly harmless gesture is far from innocent…
#46 – Black Ice: A vicious dragon is offered a gift — a block of ice to soothe the fire that burns its throat. Too bad the dragon has never heard of a Trojan dwarf…
#47 – Artist Alley: A comic book publisher sees himself depicted in a series of drawings. He would normally find such homages flattering, except for what he notices happening in each subsequent drawing…
#48 – Dead Zone: A yacht gets caught adrift in the dead zone in the Gulf of Mexico. What comes aboard from the dead zone cannot really be considered alive…
#49 – Cemetery Dance: A man afraid to take his own life attempts to torment a devout man into killing him. But there are some things worse than death.
#50 – The King Who Owned The World – A bored barbarian king demands a new challenge.